International Rescue: Squirmy 
Sharon Smallbone, text and photo
Probably the first dog rescue I ever got involved with was Squirmy Pup, a tied-up chicken guard who was on my dog-walking route.
I always brought him some biscuits and made sure he had fresh water on my way past. I had no choice. When my sister was staying with me on holiday she got into the habit of fussing with him when she was walking my dogs.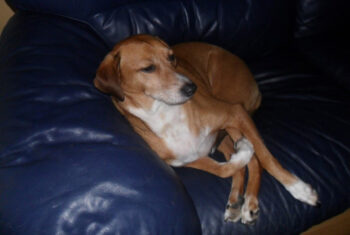 After she left, the dogs led me to him as a matter of routine and he was so excited to get some attention I had to continue the involvement. I couldn't bear to disappoint him. That happens. People come on holiday and, with the best of intentions, they start things other people have to finish.
Initially, I called him Squirmy Pup because he didn't have a name but squirmed with delight when I went to him. Of course, I'd saddled him with one of those descriptive names you later regret.
I wasn't the only one looking out for him. An Austrian lady who had a summer home nearby regularly took him leftovers. We crossed over one day and bonded over our shared concern for the dog she called 'Filos' (friend).
Anyway, there came a time when Squirmy's owner didn't keep chickens any more. He no longer had a function so he was unchained and left to his own devices. But by then he was institutionalised and didn't have a clue. I used to try and walk him with my dogs and, although the spirit was willing, he froze the moment his old 'home' was out of sight.
He'd dig his heels in and I had no other option than to take him back again.
Gradually I increased the distance he was willing to travel and eventually he was perfectly happy while we were walking on dirt but the moment we got to the road he shut down. I always had to carry him until we reached the track again.
Fortunately, his story had a happy ending. I mounted a campaign to get him a new home and, with help from the charity, I started the vaccination and quarantine process. I found him a place in kennels and then got a boost from a lovely man called Con.
I'd previously helped Con through the system of adopting his own Kefalonian dog. He ran market stalls in Liverpool and offered to display posters of Squirmy to try and help find him a new owner.
Con came up trumps. He had a few interested parties but he chose the perfect one. A woman who'd recently lost her dog. She swears she recognised her departed dog looking out of his eyes in that photo and was convinced it was a sign that she had to adopt him. When he got to his new home Squirmy was renamed Lucky and indeed he was.
Although his new owner has never been to Kefalonia he's since been joined by another four dogs from here. It's not surprising because dogs from this island can be uniquely engaging. No matter how tough their lives have been they often retain beautiful, gentle natures. They were certainly much in demand in German shelters because this attribute meant they were usually rehomed very quickly.
So Lucky and his mates have the life of Riley, getting to lounge on the furniture, romp about together and walk for miles off-lead every day. I also have to think he needs to thank his 'Lucky' stars that his original owner got rid of her chickens or none of it would ever have happened.