International Rescue: Bobby
Sharon Smallbone, text and photo
I think one of my proudest achievements must be Bobby. He was a stray rough collie type dog. He saved himself from almost certain death by being very wily and keeping himself far from people. There were many out to get him. Despite his reticence he attached himself to my dogs and began to shadow us when we went on walks near my home.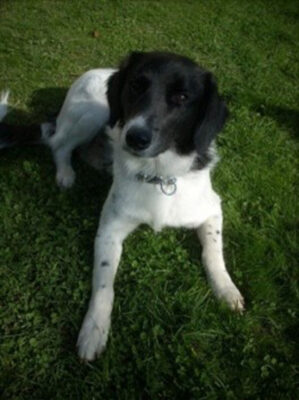 He was hungry and made it onto the wanted list for killing chickens. He also made himself unpopular by getting into the field next to my house and rolling around in the dirt. In the process he destroyed some crops so the people who'd done the planting were then after him too.
One day I spotted a dead turkey in the crop field next door so I squeezed myself under the locked gate and disposed of it in a distant bin to try and lessen the weight of evidence against him. Unfortunately some neighbouring children witnessed it all and one was even complicit in helping me bag up the turkey. They were very on side with the secret mission and I could only hope they'd stay strong and not drop me in it.
I tried to impress upon people that Bobby was mine and not some disposable stray. I hoped it might protect him.
He wanted to be near my dogs and he allowed me to stroke him but I couldn't really handle him any further than that. His survival had always depended on not getting too close to humans. In the end I had to sedate him so I could get him to the vet for a health check and then transfer him to Kennels central until he could be rehomed.
I later learned that Bobby had found a home in Austria with a lady who worked with mentally handicapped children. I was sent some photos of a sparkling clean dog and told his new owner hoped to train Bobby so she could use him as a kind of therapy dog to help in her work.
Not a bad outcome for public enemy number one and most definitely worth all the shenanigans.